Project and Program Management Consulting
In IT organizations, Project and Program management are indispensable. Project management comprises the way in which projects are organized, prepared, scheduled, implemented and completed. Project management is the work of Project Leaders and generally includes various sub-projects with associated teams and Team Leads. Successful project management is dependent on a great many factors. Naturally, knowledge of methods and techniques is necessary but perhaps a greater role is reserved for soft skills, management skills and a professional attitude. And the more complex the project, the higher the requirements organizations set for their Project Managers. Change is a constant phenomenon which no organization can avoid. Innovations and change are vital to keep your organization effective and capable of keeping pace with new developments. Projects are initiated in this regard, due in part to the inherent risks.
Pink Elephant offers various Project Management and Program Management solutions, including Agile Project Management, thhe P3O® Portfolio, Program and Project Offices, PRINCE2® and MSP® 2011. All these Best Practices are recognized internationally as standards and are based on structured methods for effective Project & Program Management, developed using best practices.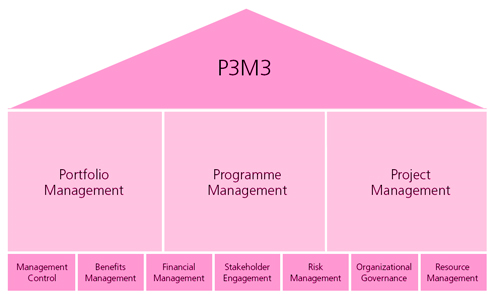 Project and Program Management Solutions
Pink Elephant's Project and Proram Manamagent Solutions are based upon the P3M3 Model from Axelos. P3M3 stands for Portfolio, Programme and Project Management Maturity Model and is used to assess the management maturity of an organisation.Growth in the organisation's project management maturity means that the predictability of change initiatives (commitment and outcome) will grow. From a common understanding of the organisation's maturity among stakeholders, supported goals can be formulated and realised. Does your organisation permanently carry out projects and programmes? Then the P3M3 Assesment Model is an indispensable means of ensuring that project management is provably and effectively embedded in your organisation.
To learn more about how Pink Elephant can help you define, drive and realise your ITSM vision contact us at +60 3 8605 3610 (Malaysia) / +65 3158 4294 (Singapore) / 800 96 8197 (Hong Kong) or email us.